Your Free Topo Maps of Australia
from Mud Maps
IN EARLY 2014 GEOSCIENCE AUSTRALIA SHUTDOWN THE FOLLOWING LINKS.
NEW FREE DOWNLOADABLE MAPS ARE NOW AVAILABLE AT
http://www.ga.gov.au/cedda/maps/1058
SORRY FOR THE INCONVENIENCE.
The Australian Government (through GeoScience Australia) has made available a large range of free topographic maps of Australia for download.
They are colour 250,000:1 topo maps for all of Australia.
Better than Google Australia
By using Google Australia you can find many mapping systems, most of which require you to be online and in range. By virtue of the fact that these Geoscience Australia maps are pdf format, you can download them, print them, or take them with you, using them online, offline or otherwise out of network range.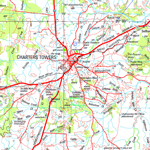 Getting your Topo Maps
Follow this step by step guide to download your free topo maps of Australia. With one downloaded you can proceed to download nearby maps one by one.
Stage 1 - Find the complete list of near maps
Click on "Topography" in the "Select product type(s)"
Click "show me results"

This will bring up all maps from Australia in alphabetical order
Stage 2 - Choose the actual free map(s) you want
Look for the area you want to get and click its "download" box
Click the "continue to file selection" button
Click "Georeferenced PDF map, xxMB"
Choose a "Sector" and "Industry" for GeoScience's market research
Click the "Continue to file download" button
Possible Stage 3 - Complete Registration
Click "Continue to Registration"
Click "I'm a new user/My details have changed"

Complete registration form with your details

Click " I have read, and agree to the LICENCE AGREEMENT"

Complete "Proposed Use of Data" form

Click "Continue to Download"
Stage 4 - Download your free map(s)
You're now on the "File Download" Page
Click on the highlighted name of your map in the Product Details column
Choose "Save File" and "OK" to begin the download of the free topo map onto your computer
Stage 5 - (Optional) Download further nearby maps
Stage 6 - Copy to your GPS, iPhone, iPad or smartphone
Use your existing techniques to copy the maps to your GPS unit, iPhone or smartphone for use offline. You don't need to be online to use these maps now. Quick Tip: take nearby maps as well just in case.
And that's it your done!
You can now transfer them onto your GPS, iPhone, netbook or other pieces of technology and take them with you. If you know how to calibrate your GPS you can even set these maps as your primary mapping information set.
More Maps

Free iPad Maps
Australia
We've recently discovered another great app with easy to use free maps built in.
Although its designed for pilots OZRunways is a really great to use and has a heap of ground maps including the free ones from OpenStreetMap.
One of the great discoveries was to find the walking tracks through my nearby national park which I've never seen before. Motorbikers and 4WDers will also find this useful. An even better that its free. OZRunways is available in the AppStore http://itunes.apple.com/us/app/ozrunways-efb/id404403989?mt=8
Another new iPad App - NatGeo World Atlas
While the National Geographic Map is not free (I just got it on special for $0.99) it is fantastic!
Starting like an old fashioned globe you can zoom into your chosen area. You can see road maps, satellite maps, terrain maps and a range of options from all around the globe.
It doesn't look like it caches the zoomed maps at this stage but I hope that changes.

Motorcycle Maps
Australia
If you're into motorcycle riding and are looking for some great trails that others have specked out already then we've found a few sites with heaps of free maps that are worth investigating further.